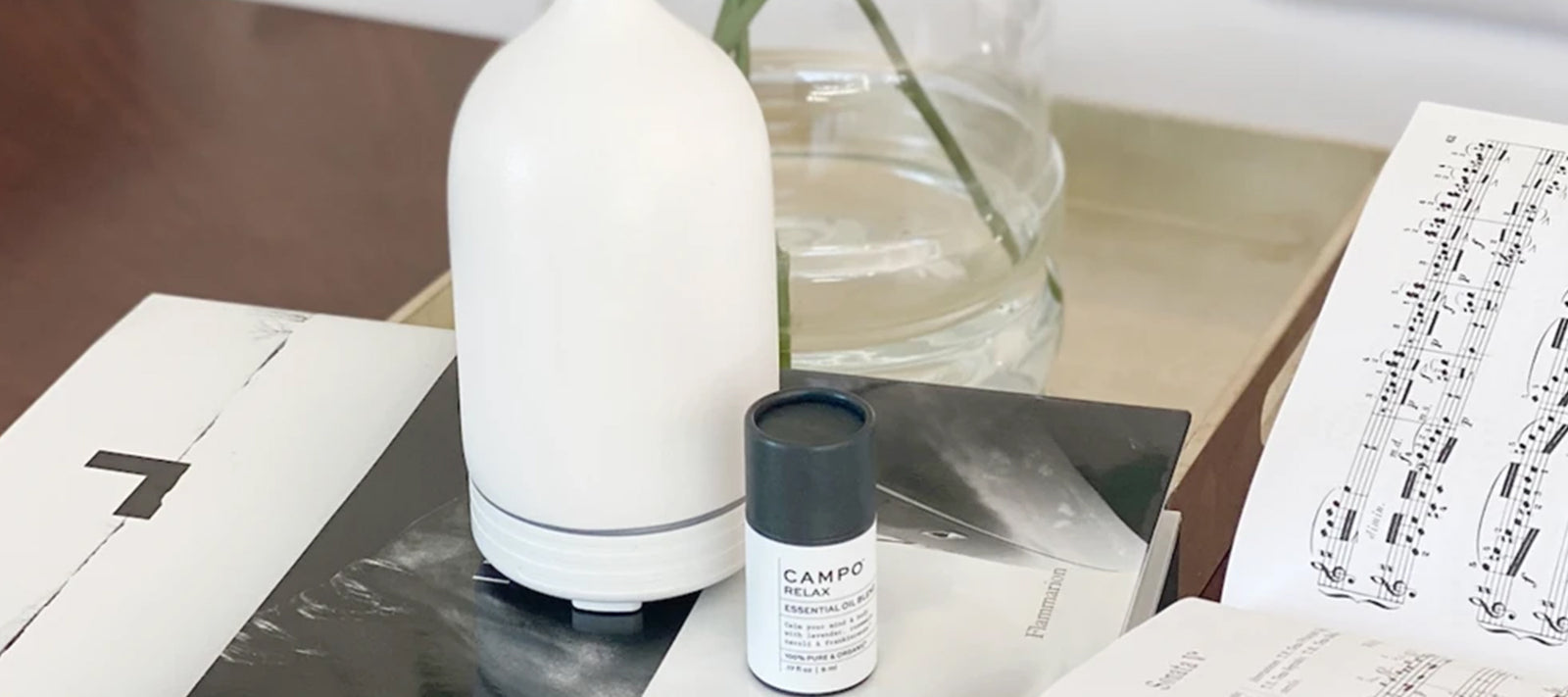 5 ways CAMPO's essential oil diffuser will transform your home. Create space to learn, motivate, work & dream. Scent is one of our most primal senses. Diffusing essential oils is a great way to experience the benefits. Swap out candles for our chic diffusers and 100% natural essential oils to cleanse the air and shift your mood.
Learn-create a nurturing space for children to learn & grow with FOCUS pure essential oil. Inspires feelings of peace and tranquility to promote heightened awareness and mental clarity.   A grounding blend of 100% pure essential oils of warm, woodsy Australian Sandalwood, Cardamom, Vetiver, Cedarwood Virginia, Cedarwood Texas, Cedarwood Himalayan and Cedarwood Atlas.
Motivate-create space to motivate & workout with BREATHE pure essential oil. Clear your mind and breathe easy with this 100% pure essential oil blend of Eucalyptus, Peppermint, Camphor & Black Pepper.
Work-create an inspiring space to work & be productive with ENERGY pure essential oil. An uplifting blend of 100% pure essential oils with rich citrus notes of Italian Neroli Orange Blossom, Bergamot, Sweet Orange and Bitter Orange with a hint of Australian Sandalwood. Feel the energy inside and out.  
Reset-create a peaceful space to de-stress & reset with our RELAX pure essential oil blend. Dispels feelings of stress to promote deep relaxation.  A calming blend of herbaceous floral notes of French Lavender, Rosemary, Frankincense, Italian Neroli Orange Blossom, Sweet Orange and Bitter Orange. 
Dream-create a sacred space to sleep well and wake up refreshed with SLEEP pure essential oil. Calm & quiet your mind naturally with this 100% pure essential oil blend of French Lavender, Wild Palmarosa, Roman Chamomile and Valerian Root.  
 Our collection of essential oil blends are made with the world's finest oils and blended in the USA. You can choose your essential oil by the "ethos" (how they make you feel) or by the scent story (beautiful & intoxicating notes). Discover the healing power of diffusing essential oils and incorporate these daily rituals into your home.
How to Diffuse:
Just add water and 5-10 drops of your favorite CAMPO essential oil to our diffusers (that look like a little piece of art) and feel the transformation begin!