Jessica Frandson and Jill King, friends since teenagehood, didn't realize they shared a love of aromatherapy until Frandson was visiting King a few years ago. "Jill saw the perfume bottle I had brought with me, said she had the same one, and she showed me her apothecary, which was this whole treasure trove of essential oils," says Frandson. "She had kept a dusty journal from college when she was making recipes and even had her recipe in there from when she had her twins and made oils so she wouldn't get stretch marks." The besties spent the evening drinking wine and concocting a plan for what would become luxury aromatherapy company Campo. Today, Campo offers premium essential oil blends and diffusers to urge people to bring wellness rituals into their daily lives. The pair spoke with Beauty Independent about their plans to grow the brand's direct-to-consumer sales, balancing business and friendship, and keeping investors at bay.
What were you doing before you launched Campo?
Frandson: I am a bit a serial entrepreneur. I worked in marketing for 20 years at my family's business, which was in the natural space. It was a non-toxic cleaner called Simple Green. I learned a ton and was exposed to a lot of high-level conversations and meetings at a young age. Whether it was doing business with Walmart or Home Depot, or being at trade shows and witnessing things from a very corporate, industrial side of business, it taught me how to see opportunity and look for ways you can improve upon things. So, with that, I started a couple businesses, including one called Twistband, which was a crease-free hair tie, which I built in full and sold.
King: I was an economics major and, then, got into the PR and marketing world. I launched the West Coast fashion and beauty division of Rogers & Cowan, where I worked with everything from Fortune 500 companies to startups and non-profit organizations. We worked with Ralph Lauren, L'Oréal, Revlon and Proctor & Gamble, so I was able to see what happened, for example, to a perfume from development all the way through to the launch, to the red-carpet party and beyond. I was responsible for getting placement in magazines, media, all of it, so I've seen the power of the press and positioning.
You got Campo's products to market in less than a year. How did you do that?
Frandson: What's so fun about Jill and me is that we're so similar in so many ways, and we have very different strengths, too. Between the two of us and our skill sets, we could literally design every label, source packaging and source ingredients. If we had had to outsource that to other agencies, some things might have taken 50 to 100 touch points to get done, but, between the two of us, it might take three touch points and get done in an hour. When we have an idea for a new creation, we can literally launch any product within a week because of our in-house skill set and the supply channels we've set up to support us.
Give us the elevator pitch on Campo.
Frandson: Aromatherapy has been around for thousands of years, so there's proof of concept, meaning we know that these oils work, and they're powerful. But a lot of times when you think about essential oils, you think of the hippy-dippie, crunchy aisle. We wanted to introduce it to a new audience by making the oils so intoxicating and beautiful that you'd be more apt to apply them throughout the day and enjoy that experience.
The ethos of our brand is energy, focus and relax. We started out by asking ourselves what we needed in our lives, and thought about what would happen if we walked up to any stranger and said, "Do you need more energy? Do you need to focus? Do you need to relax?" Who could say no to those three things? It's a universal need.
Who is the brand's target customer, and how did you identify that target?
Frandson: We really feel that Campo is for everybody, but, at the moment, we're focusing on women ages 25 to 55 who have a desire to incorporate wellness into their own lives and that of their families or friends.
King: We go after the female client, especially in the beauty lane, because it's such an attractive space. People get it. It's a platform to basically talk about essential oils. With that said, 80% of all purchases are done by females, so we feel if the female is buying it, she's going to take it home and share it with her boyfriend, her husband, her family, and she'll start to share our message as well.
Frandson: It's already happening. We've got some really fun accounts that are male-based. A girlfriend of ours introduced another friend to Campo and, now, we're going to be on this incredible men's website that's about to launch.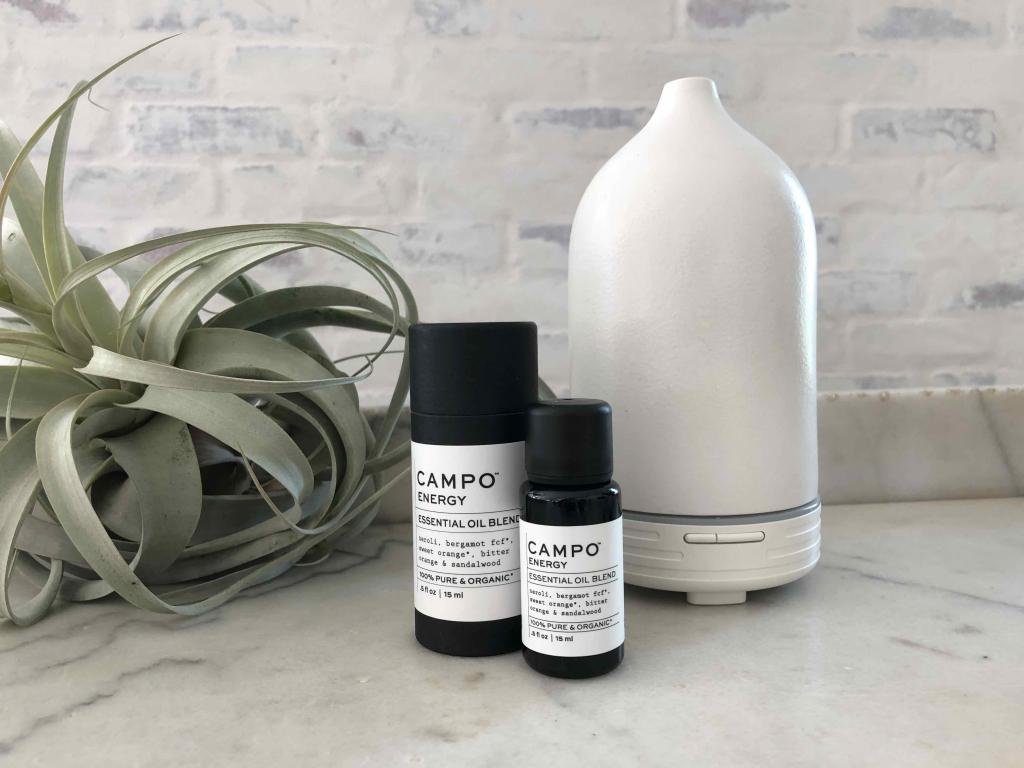 What is Campo's hero product?
Frandson: Our Energy, Focus and Relax blends. We spent about a year putting those blends together in order to sneak in some of the ingredients that might be a little bit stronger, like frankincense, without affecting the scent. Those three products along with our diffuser have been a home run.
What's the distribution strategy?
Frandson: We want to take Campo into places where people are comfortable shopping, whether it's a Nordstrom or a J. Crew, these types of environments where it's typical to buy beauty products, and they feel comfortable versus going to a Whole Foods or a place where they might be overwhelmed from an aisle that's full of 1,000 wellness products. 
Where is Campo sold now?
King: We officially launched a year ago, but really our sales team just started up in Q1 and, within the last six to nine months, we've secured Nordstrom, Revolve and Anthropologie, and we're onboarding with J Crew. We're also in Marriott luxury properties, Ledo House, and high-end boutiques all around the United States. It's been an incredible reception. There's just an appetite for it. We're also not competing for shelf space in a lot of retail because it's a new category in some of these stores.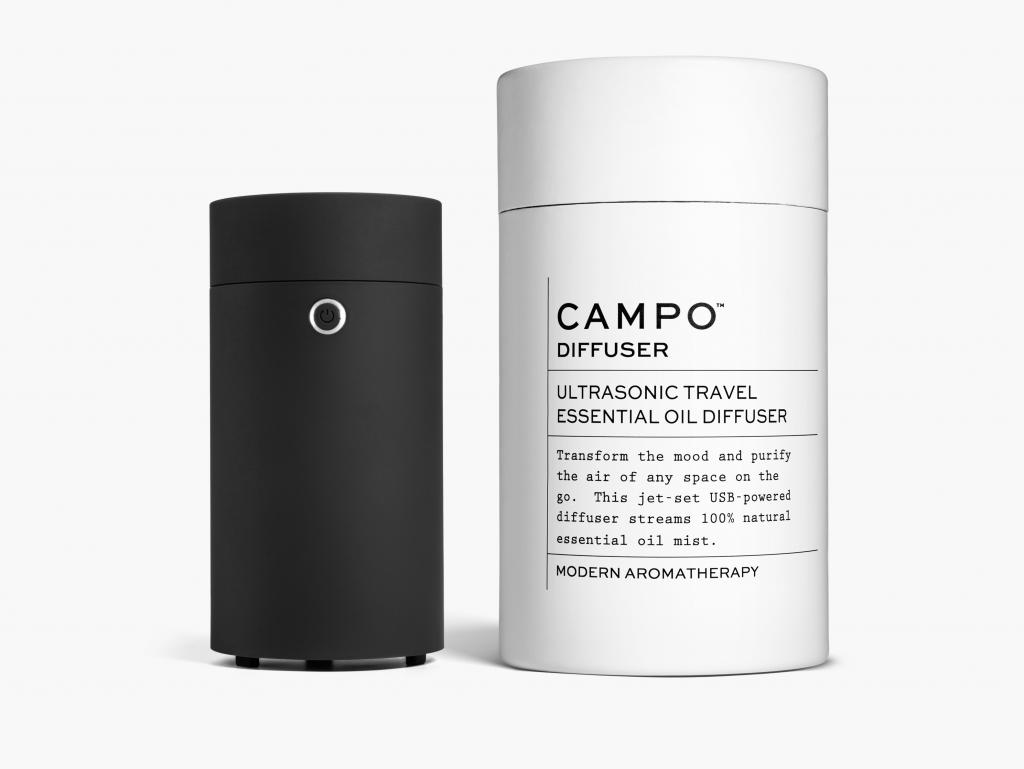 Have you considered going the Amazon route?
Frandson: Right now, we don't have any plans for that. We're really coming to market as a luxury brand and, with the accounts that we're seeding, and the experience that we want to share and the education piece, we don't know that we can optimize that right now with Amazon. They're an incredible platform for many people, so we're not here to say it's not a good thing. We're just saying at this moment we feel that we have so many other opportunities where we can really measure, gauge and have the education component that we're going to stay really focused on that.
What is a dream retailer for Campo?
Frandson: Sephora is definitely on our long-term list, and we would love to be there. But we also want to be there at the right time to support the business. We actually had a really awesome rep who approached us and said, "We want to take you to Sephora. We can land you in all the majors. It can take a year to a year-and-a-half to get set up. Let's start this." While that sounds wonderful, the last thing we want to do is get in too early and fail. We really want to make sure that we position ourselves at the right time, have the right samples, the budget, the education, and be sure that all of that is aligned when we go knocking on Sephora's door. But we will be there.
What's the e-commerce strategy? 
King: We have been primarily focused on wholesale so far, but we're definitely looking to grow our direct business in a big way in the next three to six months. We're going to be launching a blog called Field Notes, and we really want to make campobeauty.com a destination for all things essential oils to help grow and educate the audience. There's so much opportunity out there, and the return is just phenomenal.
When did Campo reach profitability?
Frandson: We're very fortunate that we've been profitable out of the gate. Jill and I like numbers. We like looking at graphs and charts and cost of goods. From day one, we were framing out the company with goals of minimum 80% margins, and we've met all those goals, which is really exciting, especially because we're doing lower volume at this time. For us, we're on this incredible trajectory because as we build volume with our runs, it's just going to increase our profits.
Have you raised outside funds to support Campo?
Frandson: No, we bootstrapped the business. We see the benefit of bringing on investors, but, in the past, going back to my dad with Simple Green, he took on some early investors, and it was always kind of his Achilles' heel, so I've been kind of flogged over the head with, "Don't take on investors. Don't do it."
In my other ventures, I've never had an investor, either. In some ways, I do think it makes you hungrier. I feel like when it's just you and your pocketbook, it drives you. When Jill and I started this company, we said we were willing to do the heavy lifting together financially. We also decided that, if we went down the investor route in the future, it would only work if the right parties came to us. It would have to be really the right people that would buy into us, buy into our track record and buy into what we're selling and the opportunity. At this point, though, we feel like we can do it on our own and want to keep our attention on moving forward.
Ironically, we do believe in manifestation, and we now have several parties that are coming to us saying, "We believe in you. We want to be a part of what you're doing." So, it's putting us in a place where Jill and I are having some reflection, and we're thinking about what that picture would look like. Because again, even though investors say they'll be at a high level and removed from the business, that's not always the case. It's a very big decision, and we're kicking the tires right now.
Did you splurge on packaging?
Frandson: We really wanted to make modern aromatherapy. With that, we thought that the packaging would really help elevate it. If the product is sitting on top of your counter versus under your counter, you're more apt to use it throughout your day. So, we designed our bottles with violet glass. If you hold them up to the light, they'll have a little blue-violet tint. In addition to being beautiful, it helps protect the oils' natural energetic properties, and it also helps block out any harmful UV rays.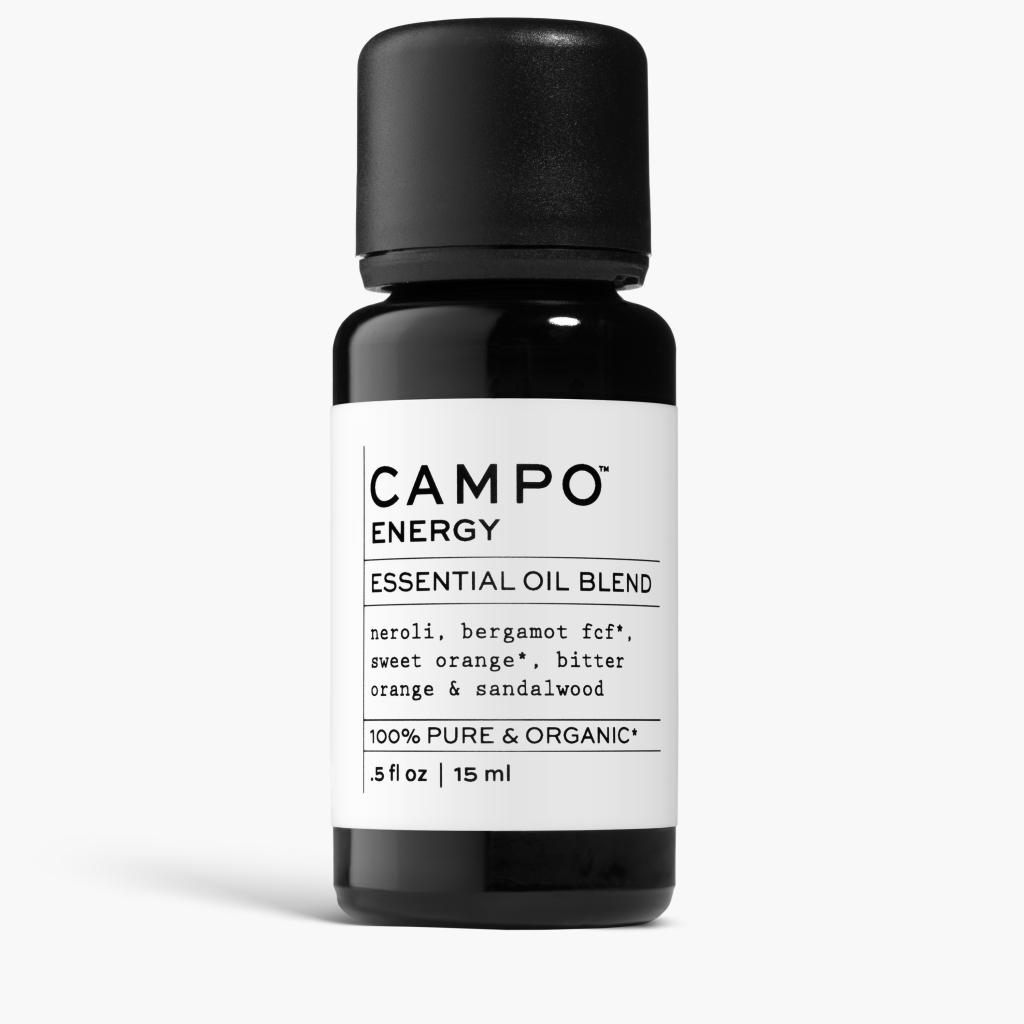 What works for Campo on social media?
Frandson: Instead of being really heavily based on just Campo, Campo, Campo on social, we try to make it a little bit more about lifestyle and some aspiration. We're giving a little taste of all the things, the reasons why we created Campo. When you go to some of these Instagram channels, there are beautiful, beautiful pictures of products, but it's just picture after picture after picture of their product. To me, that gets a little stale.
We want to have a place where when people swipe by us they say, "Oh my gosh, I want to be there, I want to feel that." We want to evoke something for people and tap them on the shoulder and go, OK, just take that extra breath right now, just take a moment for yourself. Whether it's to look at this pretty picture, or take a sip of an awesome drink, or try one of our products, or go give your husband a hug. [We present] little reminders for self-care that are aspirational, but not overwhelming.
What sacrifices have you made as entrepreneurs?
Frandson: I definitely had throttled back on my shopping. If I see a purse or a pair of shoes I want, I always measure it in Campo dollars. Like, I could buy that or I could put that money back into the company. So, that's definitely a sacrifice, but it's one that feels good to make.
King: For me, it's time. Sometimes that means sacrificing groceries or getting my hair done. Who has time to get their hair done? It's such a waste of two hours when I could be doing other things. My husband has been great about picking up some slack and making sure that the kids get everything they need, though.
What's the key to staying friends and business partners?
Frandson: Having the same values and being at the same stage of life—we're both moms—is critical success factors to our partnership. If I were single and had all this time or vice versa, it might start building resentment. Because Jill and I have the same values on just about everything, it really makes it so comfortable and fun.
We also made a commitment to each other that we're going to do the best we can to be mindful of our own family and also to be respectful of each other's family. That means that, even if we're talking about something really important, but it's time to go to a kid's softball game, we tell each other to go, that we will revisit the topic tomorrow morning.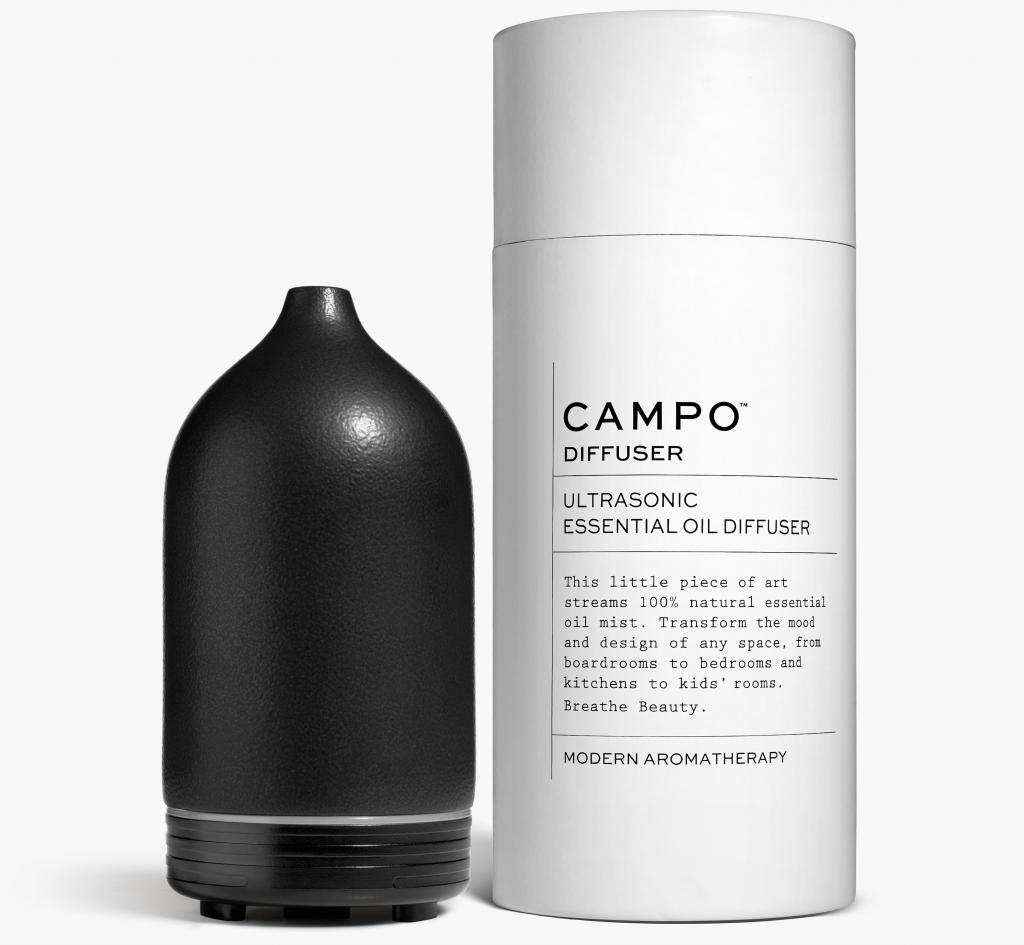 What's on the horizon for Campo?
Frandson: We are launching a wood scent for holiday that feels like you just chopped down a beautiful pine tree and put it in your home. It has balsam fir, and it screams a walk in the woods. It smells so wonderful. It's super appealing to men and women. It just evokes a sense of, "Oh, I feel calm. I feel safe." It's just this cheerful memory when you smell that intoxicating scent of a tree.
Article written by Lindsey Unterberger at Beauty Insider. Follow the link below to their original online posting.